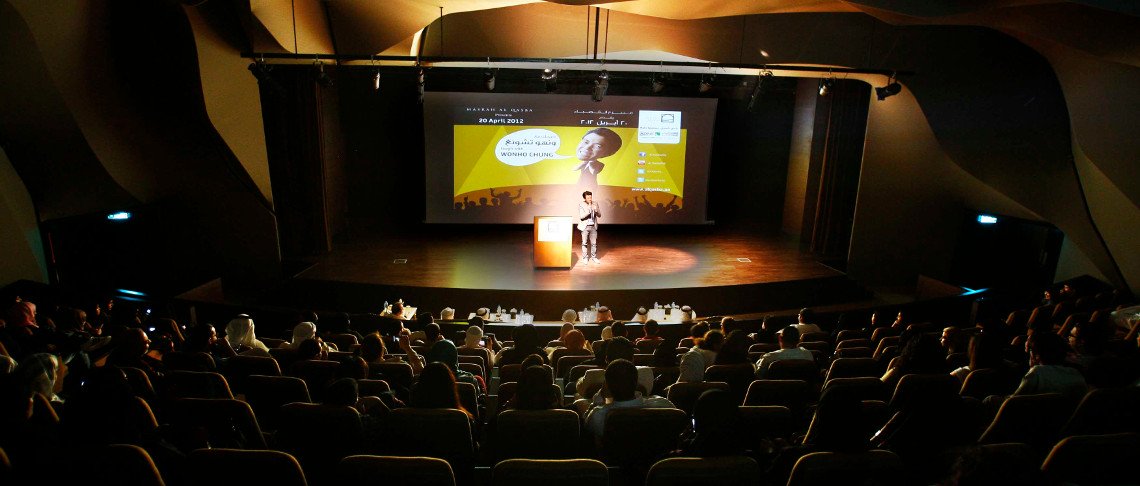 Masrah Al Qasba is a magnificent theatre with a diverse programme of music, film and theatre events held throughout the year. This spectacular indoor venue can be hired for corporate parties, private ceremonies, or any special gatherings.
KEY AUDIENCES
Training companies
Event managers
Corporate administrators
Advertising and PR agencies
Marketing firms
Artists, performers
Talent managers
Schools and colleges
SEATING AND SCOPE
With a maximum capacity of approximately 250 seats and a private box adjacent to the stage, Masrah Al Qasba is ideal for a range of functions, both exclusive and public. The theatre can be used to stage dramas, ballets, comedy shows, premieres, film festivals, musical events, conferences, award functions, and a variety of private events.
SOUND AND LIGHTING
Set the mood with stunning light displays in the foyer, reception and ramp areas. The superior lighting at the venue lends itself to adjustments for any theme or occasion. Indoors, the theatre is equipped with surround sound and wide screens.
PLANNING AND SUPPORT
Upon request, our specialised teams can work alongside you at every stage of execution – be it menu planning, decor, ticketing or marketing – to ensure that everything meets with the highest levels of satisfaction and success.
Special Arrangements
We have thought of everything you may require for your event. Need a private dressing room? How about a VIP majlis area? We're happy to make any special arrangements on request.
For inquires and bookings please contact us on +971 6 519 5444.